My Blog
Posts for tag: dentures
By John L. Glymph Jr, DMD, PA
December 21, 2018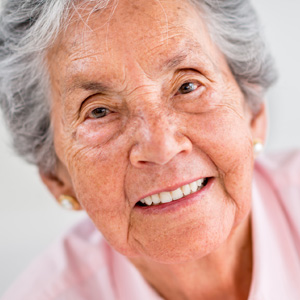 For people with edentulism (total loss of teeth), removable dentures is a viable option for regaining both lost function and an attractive appearance. From the moment they begin wearing them, denture wearers can chew food, speak and smile with confidence.
But there are downsides to dentures, especially if they're not cared for properly. Dentures put pressure on the gums and bony ridges of the jaw, which can cause bone to dissolve (resorb) and decrease its volume over time. Without proper maintenance they can also become a breeding ground for bacteria and fungi that not only lead to bad breath but, in cases of partial dentures, can increase the risk of dental disease. They could also contribute to serious systemic diseases.
You can reduce some of these risks by following these 3 important denture maintenance tips. Doing so will help extend the life of your dentures, as well as keep your mouth healthy.
Clean your dentures at least once a day. In addition to taking your dentures out and rinsing them with water after eating, you should also brush them daily with dish detergent, antibacterial soap or denture cleaner — but not toothpaste, which is too abrasive. Effervescent (fizzing) cleaning tablets also aren't a viable substitute for manual brushing in removing disease-causing plaque from denture surfaces.
Take your dentures out at night while you sleep. Wearing dentures 24/7 can hasten bone loss, as well as increase your chances of dental disease or even more serious illnesses. A recent study, for example, found nursing home patients who left their dentures in at night were twice as likely to experience serious complications from pneumonia as those who didn't. While you sleep, store your dentures in water or in a solution of alkaline peroxide made for this purpose.
Brush your gums and tongue every day. Keeping your gum surfaces clean will help reduce the levels of bacteria and other microbes that can cause disease. You can either use an extra-soft tooth brush (not the one you use to clean your dentures) or a damp washcloth.
If you would like more information on caring for dentures, please contact us or schedule an appointment for a consultation.
By John L. Glymph Jr, DMD, PA
November 01, 2018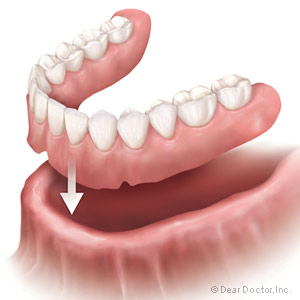 Since as many as 26 percent of older U.S. adults have lost all their teeth, there are a large number Americans who wear full removable dentures, also known as false teeth. You may be one of them.
How much do you know about dentures? See if you can answer the following questions connected with lost teeth and dentures.
Which word refers to the loss of all permanent teeth?

Atrophy
Prosthetic
Edentulism
Periodontal

What is the name given to the bone that surrounds, supports, and connects to your teeth?

Periodontal
Metacarpal
Tibia
Alveolar

What tissue attaches the teeth to the bone that supports your teeth?

Periodontal Ligament
Periodontal Muscle
Parietal Ligament
Achilles Tendon

When a person loses teeth, the stimulus that keeps the underlying bone healthy is also lost, and the bone resorbs or melts away. Pressure transmitted by dentures through the gums to the bone can accentuate this process, which is called

Dystrophy
Atrophy
Hypertrophy
None of the above

A device that replaces a missing body part such as an arm or leg, eye, tooth or teeth is referred to as

Robotic
Imaginary
Exotic
Prosthetic

When teeth have to be extracted, bone loss can be minimized by bone grafting. Bone grafting materials are usually a sterile powdered form of

Allograft (human tissue)
Xenograft (animal tissue)
Both
Neither

Wearers of full dentures must re-learn to manipulate the jaw joints, ligaments, nerves, and muscles to work differently in order to speak, bite, and chew. The name for this system of interconnected body mechanisms, originating with the root words for "mouth" and "jaw," is

Boca biting
Stomatognathic
Periodontal
None of the above

A type of plastic that is artistically formed and colored to make prosthetic teeth and gums look natural is called

methyl methacrylate
beta barbital
rayon
polystyrene

Success in denture wearing depends on

The skill of the dentist
The talent of the laboratory technician
The willing collaboration of the patient
All of the above
Answers: 1c, 2d, 3a, 4b, 5d, 6c, 7b, 8a, 9d. How well did you do? If you have additional questions about full removable dentures, don't hesitate to ask us.
Contact us today to schedule an appointment or to discuss your questions about dentures. You can also learn more by reading the Dear Doctor article, "Removable Full Dentures."