My Blog
Posts for: April, 2015
By John L. Glymph Jr, DMD, PA
April 25, 2015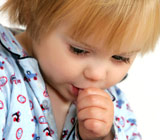 Sucking their fingers or thumbs makes young babies feel secure and is completely normal behavior. Babies have been observed to suck their fingers or thumbs even before they are born. But like many comforting habits, over-doing pacifier, thumb, or finger sucking habits may be harmful.
Stop Pacifier Use by 18 Months
Studies have shown that pacifier use after the age of two may cause long-term changes in a child's mouth. We recommend that pacifier use should stop by about 18 months. A pacifier habit is often easier to break than finger or thumb sucking.
Stop Thumb and Finger Sucking by Age Three
Most children naturally stop thumb and finger sucking between two and four years of age, but some children continue this habit much longer. This may cause their upper front teeth to tip towards their lips or to come into position improperly. It can also cause their upper jaw to develop incorrectly. The American Academy of Pediatric Dentistry recommends that children stop these habits by age three.
Use of Behavior Management to Encourage Quitting
We offer creative strategies for gentle ways to cut back and stop pacifier use, including behavior management techniques that use appropriate rewards given at predetermined intervals. Meanwhile, make periodic appointments with us to carefully watch the way your child's teeth and jaws develop.
When your child is old enough to understand the possible results of a sucking habit, just talking about what may happen to teeth as a result can often encourage him/her to quit. As a last resort, a mouth appliance that blocks sucking may be needed.
If you are worried about your child sucking a pacifier, thumb, or fingers, please visit us to put your mind at rest. For more information read "Thumb Sucking in Children" in Dear Doctor magazine. Contact us today to schedule an appointment to discuss your questions about children's thumb sucking.
By John L. Glymph Jr, DMD, PA
April 10, 2015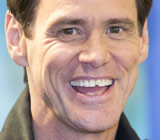 Fans of the classic bumbling-buddies comic film "Dumb and Dumber" will surely remember the chipped front tooth that Jim Carrey sported as simpleminded former limo driver Lloyd Christmas. Carrey reportedly came up with the idea for this look when considering ways to make his character appear more "deranged." He didn't need help from the make-up department, however… He simply had his dentist remove the dental bonding material on his left front tooth to reveal the chip he sustained in grade school!
Creating a Bond
A dental cosmetic bonding involves application of a composite filling material that our office can color and shape to match the original tooth. Bonding material can be used to replace the lost portion of tooth or to seamlessly reattach the lost portion if it has been preserved and is otherwise undamaged. Little to no removal of existing tooth surface is needed. This is the quickest and lowest-cost option to repair a chip.
Alternatives
When a relatively large portion of the tooth is missing, a crown is often the better choice. It fully encases the visible portion of the remaining tooth above the gum line and is shaped and sized to match the original. It can be made of tooth-colored porcelain fused to metal crowns or all-ceramic (optimal for highly visible areas). A small amount of the existing tooth surface will be removed to allow the crown to fit over it.
A veneer can be used to hide smaller areas of missing tooth. This is a thin, custom-made shell placed on the front of the tooth to give it a new "face." Some removal of existing tooth surface also may be necessary to fit a veneer.
A chipped tooth makes an impression, but generally not a flattering one. Nearly 20 years after "Dumb and Dumber" hit the theaters, the only thing Jim Carrey had to do recently to hint at a sequel for his nitwitted character was tweet a photo of that goofy grin!
If you would like more information about repairing a chipped tooth, please contact us or schedule an appointment for a consultation. You can also learn more about this topic by reading the Dear Doctor magazine article "Artistic Repair of Front Teeth With Composite Resin."