My Blog
Posts for: March, 2015
By John L. Glymph Jr, DMD, PA
March 26, 2015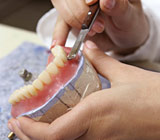 Even with modern knowledge about oral health and how to prevent tooth decay and gum disease, more than 25 percent of Americans have lost all their teeth by the time they are 65. Perhaps they did not have access to dental education, quality care or treatment. Whatever the reasons, those who suffer from "edentulism" — the complete loss of all permanent teeth — also suffer from poor self-image, impaired nutrition, and reduced quality of life.
Removable full dentures are often the solution of choice for those suffering from edentulism. Dentures can be made to look good and feel great; but successful denture-wearing demands the collaboration of a skilled dentist and a willing patient.
A set of well-fitting full removable dentures starts with detailed planning. We need to work out where each tooth will be placed and how the upper and lower teeth will meet together. To do this, we make use of photos taken before the teeth were lost, as well as using the facial features as a guide. You as the patient have to decide whether you want your dentures to look much like your natural teeth did, including any gaps and uneven areas, or whether you want to make your new teeth more regular and uniform than the originals.
In addition to the size, spacing and locations of the teeth, decisions must be made regarding the colors and textures of the part of the denture that fits over and looks like gum tissue. Photos can help with this aspect as well. Ridges can be added to the section of the denture behind the upper front teeth to aid in natural speaking and chewing.
The upper and lower dentures must be designed so that in the process of biting they stabilize each other. This is called "balancing the bite." This is necessary for normal function and speech.
All this careful planning and design are only the beginning. The dentures will be created in a wax form, tested and modified. They are then completed in a dental laboratory, where the new teeth and gums are created out of a special plastic called methyl methacrylate. With careful planning, skill and artistry they are made to look like natural teeth and gums.
At this point the role of the denture wearer becomes vitally important. He or she must relearn how to bite, chew, and speak while wearing the dentures. As the dentures press down on bone and gum tissues, over time some bone will be lost. This will require coming in for frequent checkups and modifications to make sure the dentures continue to fit well and comfortably.
Contact us today to schedule an appointment to discuss your questions about dentures. You can also learn more by reading the Dear Doctor magazine article "Removable Full Dentures."
By John L. Glymph Jr, DMD, PA
March 11, 2015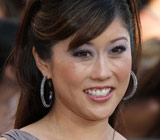 When Olympic figure skater Kristi Yamaguchi wanted to help her kids develop good oral health habits, the gold-medal-winner made good use of a family connection: Her father Jim Yamaguchi is a practicing dentist in the San Francisco Bay area who treats her entire brood. As she said in a recent interview, when she suspects the kids may be spending a little less effort on oral hygiene than they should, she playfully admonishes them: "You've got to brush your teeth better than that. Papa-san is going to know!"
Not all kids are lucky enough to have a grandpa who's a dentist — but every child can learn how to help take care of his or her oral health with age-appropriate techniques, plus plenty of parental guidance and encouragement. What's the best way to help your kids develop good oral hygiene routines? We're glad you asked!
Through babyhood and the toddler years, parents have the main responsibility for keeping kids' teeth clean. But as they begin to put away pacifiers and cease sucking thumbs — around ages 2 to 4 — children can also begin to help with their own oral hygiene routine. By then, kids will probably be used to the feel of gentle brushing, and may be eager to try it themselves.
A soft-bristled brush with a pea-sized dab of toothpaste is all they need to get started… along with a good dose of parental patience. Show them how to wiggle the brush back and forth from the gum line, and all around the upper and lower teeth, both in front and in back. At first, they will probably need plenty of help. But after the age of 6 or so, as their manual dexterity increases, so will their ability to get the job done.
You'll still have to check their work periodically — but you can also teach them how to do it on their own: Have your child run his or her tongue over the tooth surfaces. If they feel smooth and silky, they're probably clean too. If not… try, try again. This test is a good guideline to brushing effectiveness — but if you want to know for sure, use a temporary dye called a disclosing tablet (available at many drugstores) to reveal unseen buildups of plaque bacteria.
What else can you do to give your children the best chance at keeping a healthy mouth and sparkly teeth? Set a positive example! Make sure you (and your kids) eat a healthy diet, get moderate exercise, limit between-meal treats — and visit the dentist regularly. The encouragement you'll get after having a good dental checkup will make you feel like a gold medalist — even if the praise isn't coming from grandpa.
If you would like more information on how to help your child develop good oral health habits, please contact us or schedule an appointment for a consultation. You can also learn more about this topic by reading the Dear Doctor magazine articles "Dentistry & Oral Health For Children" and "How to Help Your Child Develop the Best Habits for Oral Health."